Hello Wednesday!
Let's fill you guys in on my happenings…yesterday morning started off with a 5 mile run. I had 1 time all day to get a run in and that was at 6:30 am, so it was do or don't do. I got up and got out the door. My legs were a bit sore from a workout class I had taken the day before, but I got through it.
Yesterday in a nutshell:
Woke up, ran 5 miles
Let painters in to finish upstairs
Met a client
Drove to Queens to let movers in. Stayed there for a little.
Came home to pay painters.
Went to buy small items (like paper towels) ruined in flood.
Went to chiropractor.
Did 20 minutes of back and biceps at the gym.
Picked up Dan from train.
Came home and helped movers move furniture in here.
Arranged 2 rooms.
Sleep.
Nuts.
I actually remembered to take pictures of my food yesterday. Please remember that there is no normal for me lately. I'm trying to do the best I can getting in good food that is quick. On Sunday I made 5 hardboiled eggs so I had something to grab quickly during the week. They are gone and I plan on making more today. Prepping food makes eating healthy SO much easier.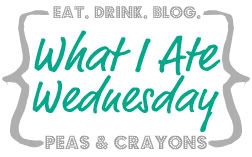 What WIAW isn't about

Comparison – Judgement – Restriction – Guilt

What WIAW is about

Celebrating one of the glorious things we all have in common: We all eat!

It's about food and fun! And, even more, it's about making new friends, breaking out of a food rut, inspiring yourself & others, embracing fruit & vegetables, finding new ways to eat your favorite foods, and so much more <3

Celebrate blogging. Celebrate Food. Celebrate Individuality.
Like I said the first time: Everyone is different and we all have different caloric needs to fuel our body. I have no idea how many calories I consume on an average day because I don't count calories, portions, foods, etc. I eat what I want to eat, when I want to eat it. You know I believe in eating well, which to me means eating whole foods that are minimally processed. As long as 90% of my food fits under that catagory, I am doing my job of fueling healthfully.
(didn't end up eating greens because I didn't have a fork and ate this with my hands while waiting for movers in my car)
Just to prove where my head is…I meant to make this a green smoothie because I didn't have any greens all day and I forgot. Oh well.
I have a busy day. Off to kicks it's butt by starting with KOGA! Have a great day!
Know any college students or recent grads who are looking to lose weight and live a healthier life? I'm starting on online group, email me at NicoleCulver1@gmail.com for more information!